Co-curricular Activities
Sports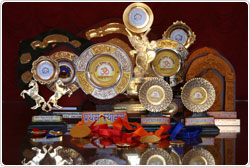 All the classes have 3 to 4 periods of physical education per week. Yoga classes are held every Wednesday. Students get special training in athletics.
Annual sports competitions are held every year. Students from pre-nursery to class 10 participate in events like athletics and group games. This inter-house competition is an important feature of the school, as rolling shield is handed over to the winning house on the school's Annual Day. Our school students also participate in interschool competitions.
The school has a well equipped mini-band.
Music
Students have lessons in music every week, conducted by an eminent artist. Children participate in various inter-school music competitions.
Yoga
Literary Activities
Students are encouraged to read books in  reading sessions and reviews are conducted regularly. Debating, quiz and elocution competitions are organised. We also encourage our students to undergo other trainings like abacus and Vedic Maths.
School Magazine
HEJJE, the theme based annual magazine is released on school's Annual Day.
KANNADI, The Mirror, a monthly wall magazine showcases the literary talents of the students. Stories, poems, jokes, articles, sketches and paintings enrich it.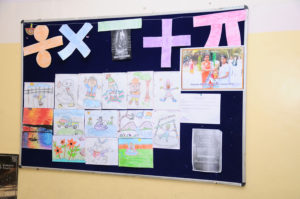 Craft & Art Room
Craft classes are fun filled activities which bring out the creative talents of the students.The splashes of color reverberate with the diversity and vividity of human emotion in the art room at the junior level. Individual styles and techniques get honed and displayed at the middle and senior school level.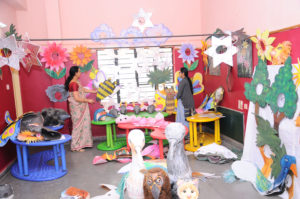 Educational Visits
Students go on organised visits to planetarium, zoo, science museums,parks and scientific organizations like ISRO.
Various celebrations through the year
The school holds a Talents' Day to identify and promote the hidden talents in students.  All national festivals are observed in addition to Children's Day and Teachers Day. Sports Day and Annual Day showcase the talents of our students.